---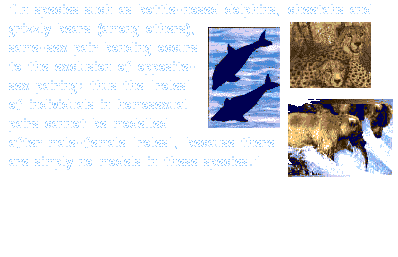 Like the animals, Prehistoric men and women lived apart, and
I have the bones to prove it...check out the links below.
Thousands of people are leaving the Church to find God
...see my Kool Quotes below.

Science shows: no sexual instinct to guide males to females
... use my banners below everywhere you can
---
MY ARTICLES & ESSAYS
---
REMARKS, OPINIONS, & REBUTTALS
---
These include some of the most radical and informative pro-lesbian and gay web sites I have encountered thus far, in my journeys on the 'Net. Oh ye who doth possess even a shred of homophobia, be warned: ye shall be burned mightily!
---
I leave the reader with my ever-growing collection of quotations that I have seen on the 'Net, on T-shirts and so on; all of which are not copyrighted, and all of which are emerging at the rate of the electron as the 'Net speeds up our knowledge to hitherto hidden truths.
---
FREE GAY LIBERATION BANNERS (click here)
Use these banners on your web pages like you use bumper stickers on your car: to make a statement! In fact, feel free to make your own bumper stickers and decals from these banners.

Use this banner as a graphic link to my web site:
http://www.gay-bible.org/other/truthspeak.htm