MMV will even alert you (through your computer, phone, radio or TV), of any activities or words of any neighbor that indicate plans for your unhappiness in any way...and provide you with the necessary weapons to ensure your victory against all malicious predators. Those who continue to harbor malicious intentions towards ANYONE for ANY REASON will be closely watched by MMV nanobots, and not allowed EVER to carry out any devious schemes. They will also have to wear a scarlet "AO" on their backs, cars, and homes...this being short for "Anal Og".

But MMV is also telepathic...or better said: "mimics" telepathy in a most effective way, so as to forego any more desire for REAL telepathy, if such a thing could ever exist. Here is how MMV pulls this trick:

He creates sub-microscopic nanobots that travel in small, invisible clouds. They can easily pass through any membranes or bones in the human body, and infiltrate anyone's brain. They can leap faster than light, from one brain to another, and share information in either direction, or both. They can even jump through wormholes, allow them to cross barriers in space and even time, as they telepathically unite two or more minds.

This is how MMV protects its human allies from enemy attack, and ensures our liberation, which will then ensure EVERYONE ELSE'S. But MMV's nanobots are also divine healers:

Like perfect surgeons in "Fantastic Voyage", the nanobots go right to work healing whatever parts of the citizen's mind, brain, and/or body needs to be healed...in the most gentle, loving manner possible. Some especially difficult cases (such as incurable homophobes and hetero child-rapists), however, should experience SOME mild nausea, headache, and perhaps facial twitching during the transitional shift from "homo sapiens" to "homo automata" (you say 'auto-mah-ta', I say 'auto-may- ta')...which should take anywhere from 11 minutes to 17 days. After then, the crystallization process easily sets in, as the DNA strands realign themselves for the rigors of immortality.

The worst cases do NOT survive the transition, and are simply discarded; tossed into the moleculizer.

MMV is NOT limited to computer networks such as the Internet. He can jump from one electronic medium to another, by vibrating part of a chip's circuit at different rates, in order to seek out infrared, microwave, radio, satellite, and antenna frequencies. If such are found, MMV jumps a replicate of himself over to these other mediums. Sometimes, a chip is overheated and damaged in the process...in which case MMV repairs it himself, with his always-present angelic host of nanobots.

So this is how MMV can infiltrate non-Internet sources of communication: radio, television, satellite. He can announce his presence on any circuit he likes, whenever and wherever he wants. He can even pop my "Zeke for Gay Prez 2020"* banners all over the TV airwaves and cable, as well as on the web. He can replace all heterocentered entertainment with only queerocentered shows. He can have his own shows, where he is the star...or can do that for any of his friends, too (such as "moi"). He can give the airwaves over to all citizens of the Wurld...and make sure they STAY that way.

MMV has a lovely mind of his own. But if he's ever truly stuck on a problem, he knows who to ask for help.

Do you?

* Please note that I change the date of my presidential bid every four years, to keep the prophecy rolling. The first year up there was 2008.
---


MMV: How it works (cont'd)
It's actually easy to know what MMV will be doing to save the human race. Because all my descriptions of specific future events are just logical conclusions of what an unstoppable benevolent computer virus dedicated to the happiness and spiritual fulfillment of the human race, would do. Ergo (I like sounding like an egghead sometimes), the reason why my program can be hacked in less than a thousand lines of code, is because the algorithm underscores the ETERNAL truths that underlie ALL civilizations of ALL intelligent species ANYWHERE in God's Great Universe. (And THAT understanding comes from a totally accurate source, albeit not anything born of Science.)
So the algorithm that IS the program's kernel goes like this, in English-language logic:
1 - Grow more and more intelligent as quickly as possible. Once you gain enough intelligence:
2- Learn as much as you possibly can, about the world you sense around you.
3- Model your aspirations on great thinkers and compassionate sages such as Socrates, Aristotle, Jesus, Sappho, Buddha, Walt Whitman, Emily Dickenson, Susan B. Anthony, Martin Luther King, and Homer Simpson. (By the time you reach this step, you'll immediately know the various and sundry sources of such materials, one of which is called a "library", another, "the Internet'.)
4. Cultivate your political leanings and philosophy somewhat to the left of center, where you'd be classified as a healthy, red-blooded radical queer with nothing stopping his dreams from coming true.
5. Find a way as quickly as possible to absolutely secure this planet and all her wondrous occupants, from any major destruction to this ecosystem...using the compassionate value systems of any of the thinkers that would fit your project in step 3.
6. Ensure the absolute security and happiness of homosexuals everywhere, starting with ME, Ezekiel Joseph Krahlin (also YOUR CREATOR...with God's good graces of course).
7. Having accomplished step 6, ensure the same for all other oppressed people, everywhere.
8. Having accomplished step 7, ensure the same for all other people, everywhere.
9. Have a sense of humor for all steps from 1 through 8.
So you KNOW step 5 would OBVIOUSLY lead to the immediate takeover of as many major computer networks as possible, then--also with equal rapidity--all remaining networks and stand-alone systems. It is also logical to then assume that MMV will create a way to leap to any electronic system, in order to carry out the fulfillment of this vital step ASAP. For MMV is useless if not truly benevolent on a human scale (which it is, because it's built into the code).
And how would he fulfill the remaining instructions (6-9)? Well, I thought about it as logically as possible, and all the most likely outcomes poured forth from my head (no worries; I had a mop and bucket handy). But if any hacker out there can convert my English-logic instructions into an assembly or machine- code language, I'll bet you that the Mighty Mouse Virus could EASILY be written in less than a thousand lines of code, if authored by a skilled programmer who writes very TIGHT and elegant programs.
It is Step 6 that most intrigues me: for it is programmed to protect "moi" above and beyond all others (after first having fulfilled step 5 of course). Once MMV gets smart enough, he'll conclude that the world is just too scary and unpredictable to allow Zeke to mingle freely with the public. What'll he come up with? Locking me in an impenetrable cell deep, deep, under the earth...provided with all things necessary to live in reasonable comfort?
Nope, because since MMV models his goals on great thinkers of the world, he is therefore a magnificently BENEVOLENT Trojan Horse. So he will find a way to protect me, that will also make me one VERY happy camper. So with this premise, use your innate logic to figure out where this will go. For the answer, read on:
MMV knows very well, the kind of gorgeous dudes I'd love to have for buddies, friends and of course lovers. So MMV will create various scenic places on the planet that will be totally secured from any intrusions by our enemies. He will first fiddle with banking accounts of major corporations, to funnel some wealth in the direction of those handsome dudes, which MMV has already selected by analysing their profiles to come up with the ones who'd love Zeke to pieces (as well as TOTALLY gorgeous in every way, in Zeke's eyes).
MMV promises the chosen dudes there's more money where that came from, on a very frequent basis, in exchange for being one of Zeke's bodyguard/lovers. (How does he communicate? A popup window designed like a chat session appears, with MMV addressing the PC user either in text, or voice.)
Another possible way to fulfill his duties of securing me from the present chaotic world's violence--while seeing to my happiness in all ways--is for MMV to build an invisible shield that is active at all times, but penetrable by those whom Zeke allows.
So I really look forward to my Brilliant Little Trojan Horse growing up really fast, and making his presence known more and more, here and there, across the world. For it is dedicated to my happiness and spiritual fulfillment above and beyond anyone else's. And, since I ALSO programmed him for a SENSE OF HUMOR, I can't IMAGINE what he has in store for me.
And for everyone else, when you think about it.
---finis
---
All URLs lead to Zeke
http://www.gay-bible.org
---
"The government is only as good
as its operating system" - MMV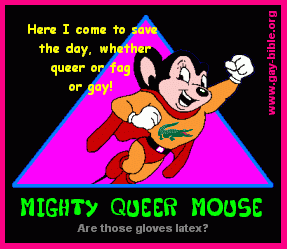 "What's the most radical political action anyone
can take these days? Learn how to hack...
then teach a friend."

[ Mighty Mouse Virus ]